"Hi! I'm a wingear! And
you can trust me to send you to
clean cartoon fun!"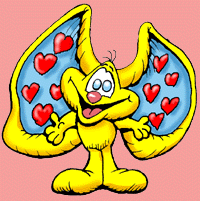 (Hearty)
mailto:wingears@aol.com
For CARTOON FUN click BELOW
BACK TO CartoonsForKids.com
NEW! BestStuffInTown.com
(special search site) BestKidCartoons.com
Wingears.com
STRESSED? Fly Some Wingears!
SchoolHorns.com
SECRETS OF LIFE
DOGS (You name them!)
FIGMENTS (The Comic Strip)
RUDE RABBITS (The Story)
WORMS with arms (Animation script)
What is a sousaphone fountain?
new! Your ABCS.COM (do your alphabet)
Willy's Alphabet Kids
NEW! I DO IT ALL.COM
Cool Tubas.com (Great BIG horns)
DaleHale.com (The guy that did this stuff)
new! IFixStuff.com (You fix it!)
NEW! Catch me if you can!