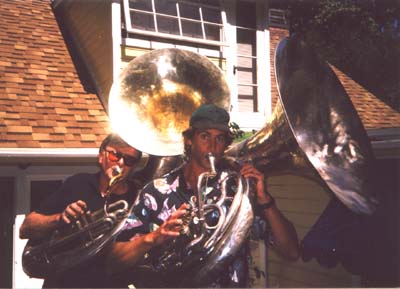 Dale and son Kevin

DALE HALE 2005
Writer - Cartoonist

After receiving my BFA degree, I eagerly accepted Charles (PEANUTS) Schulz's offer to move to California and work as his assistant.
After several years, I moved to Santa Monica where I spent the next eight years writing and sketching THE FLINTSTONES and YOGI BEAR comicstrips. My own comic strip, FIGMENTS, was then syndicated and for 15 years ran in newspapers around the world. During this time, I also co-created, wrote, and drew the child-rearing cartoon panel YOU'RE GETTING CLOSER for King Features Syndicate which ran for eight years.

I've written for animated shows such as ROAD RUNNER, PINK PANTHER, FLINTSTONE KIDS, FLIPPER, GHOST BUSTERS, BROOM HILDA, DISNEY'S DUCK TALES, TINY TOONS, SHELLEY DUVALL'S BEDTIME STORIES and many others. One of my latest assignments in animation was working as visual gag specialist on development of story and character design for GUNTHER-WAHL PRODUCTIONS for major networks.

In design and development, I've worked for such companies as SABAN, REVELL, MATTEL, Q-5, CALIFORNIA SOFT TOYS, PLAYMATES, and SEGA. I've also designed my own line of greeting cards called SEMI-POISON PEN LETTERS.

Recently, I've completed four children's books, COULDN'T SAY NO JOE AND THE RABBITS WITH BAD HABITS, FLAG BEARS, A CHILDREN'S BOOK FOR ADULTS (WHO FORGOT A LOT) and WILLY'S WALK. I both write and illustrate
my own books. I've just finished 56 illustrations for a book released by Dell Publishing.
I'm also preparing a totally new and exciting cartoon (funny) concept of "movable illustration" utilizing special magnetic sheeting and photography. A gallery showing called "A CHANGE OF SCENE" is planned for next year to premiere this new technique.

I'm married, have three children, and relax with my hobbies of music (playing tuba in concert and Dixieland bands), sailing, and restoring antique cars.

My websites are CARTOONSFORKIDS.COM or DALEHALE.COM
JustTrustme.com and IdoItAll.com and CoolTubas.com and BestKidCartoons.com and Wingears.com and SchoolHorns.com

My business sites are BEST-INTOWN.COM or BEST-AROUND.COM

email is: email4dale@aol.com or schoolhorns@aol.com or wingears@aol.com